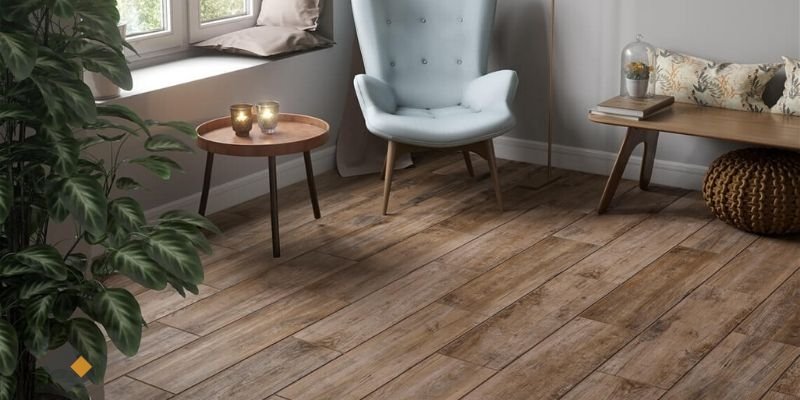 Ceramic parquet models with a wooden look have started to appear more frequently, especially in recent years. People who are afraid to achieve the look of parquet in their homes, offices and even outdoors, but due to the problem of covering the parquet and the fact that parquet is not a very durable material, they turned to ceramic models with a similar appearance parquet; Wood-look ceramics can have many different designs. The most important criteria are that ceramics are resistant to water and dust, and wood-like ceramic models are much cheaper and more affordable than traditional wooden parquet. Let's look at where ceramics similar to parquet are used and what are its advantages over the use of traditional parquet.
What are the advantages of using ceramic parquet?
Parquet-like ceramics are among the most preferred types of ceramic tiles. It is very suitable for use in living rooms, balconies and even in your garden. Although wooden parquet models are often marketed as waterproof, they will never be as durable as ceramic. Ceramics are produced from specially blended clay, mineral and clay soils that are fired in kilns at thousands of temperatures. As a result of this cooking process, incredible resistance to water and dust is provided. In addition, as a result of the chemical process, which is also known as the ceramic coating used on the ceramic surface, its durability reaches incredible levels with its glazed surface. Ceramic parquet models are almost as many models of laminated wood parquet today. Especially when looking for a ceramic parquet model, one of the leading brands in this segment.
Why not wooden parquet? Why choose Ceramic Parquet Lock?
Wooden parquet is one of the indispensable decorative products for homes that we encounter in all kinds of interior spaces today. These wooden parquet are products made from trees that once contained vitality. These trees are ready for use in our homes through various processes. However, the wood material may lose its resistance to scratching, wear and tear by contact with liquid, even if it has gone through many technical processes. For this reason, hardwood-like ceramics are preferred instead of parquet, especially in outdoor areas such as balconies, gardens, or office entrances.
By using parquet-like ceramics, you can get the woody look you want.

Wood floors will wear out over time. The renovation process is also very expensive.

Ceramic is very easy to use. After laying the ceramic, the damaged ceramic can easily be replaced with a new one.

The wood-like ceramic models have completely different and elegant designs. You'll never look for real wood floors.
These four reasons should be enough for you to look for  wood-ceramic models that look like parquet.
Ceramic models with beautiful parquet appearance
Hardwood- like ceramic models have become a popular décor trend today, especially with efforts to combine inspiration from nature and art. Wood-like ceramic parquet, which is included in many different designs in a product catalog, is ready to buy to provide your home, workplace and balconies with great views and luster. If you wish, let's consider together the most beautiful models of parquet ceramics. We recommend you to visit our catalogs for more models.
How is ceramic parquet applied? The differences between ceramic and parquet floors
Parquet application is a very laborious process. First of all, when you want to apply wooden parquet in your home, you should definitely get the help of a professional. Parquet is very laborious and expensive products. However, the application of ceramic floors is a very practical process. You can easily apply ceramic tiles using our online ceramic tile guides, which we have prepared for our clients and provide basic information. Ceramic parquet tiles After  choosing the most suitable model for you, read our article on ceramic floors. Then, having provided the necessary materials, you can remove the existing ceramics and start the process. Ceramic flooring can be more difficult to process for hardwood ceramic models. Because ceramics with cascading patterns are very common in wooden models. We recommend that you seek help from a renovation expert for this ceramic parquet flooring process.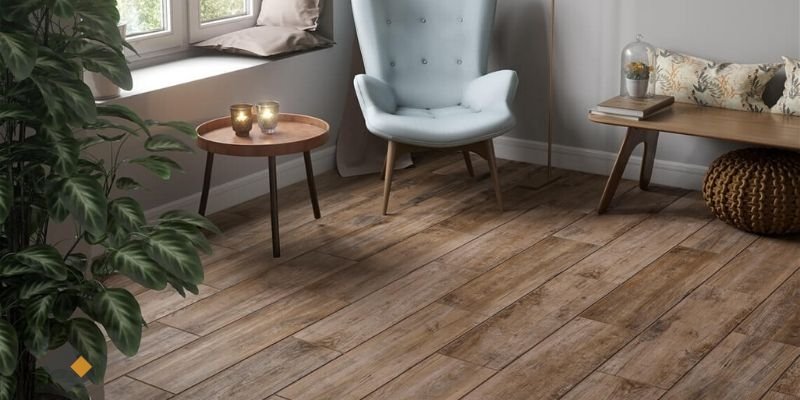 He achieved the most significant industry breakthroughs in ceramic parquet for years. Which offers you the most suitable, quality and durable ceramics for your home with the most beautiful designs, ready to answer all your questions. You can find answers to all your questions by contacting us and visiting our agents. We hope that this article will be useful to anyone considering the use of parquet-like ceramics in the home, office or outdoors.
ceramic wood flooring
Wooden Floor Tiles – Natural wood floor tiles.
Wood Floor Tiles – Parquet-like floor tiles and modern floor tiles can easily reflect the warm and natural look of wood.
Wood Look Floor Tiles  – As you know, in home décor, all the beauty of a space comes from the wall and floor. From what kind of material we will use for the flooring to the color tone on the walls to the paint that will be used, everything is very important. Among the flooring models  that have a very important place in the decor, many people prefer wooden parquet due to its natural appearance, but due to some negative features, it cannot be used comfortably in all areas of the house.  Thanks to the ceramic parquet-like models, the negative aspects of wooden parquet are completely eliminated .
Today, thanks to the rapid development of technology, wood-like ceramic models have appeared  with beautiful, modern, elegant and aesthetic models, which are more beautiful than others, with their different colors, patterns and textures. You can now easily apply it to every area of ​​your home, changing the atmosphere of your home and creating a great natural look. Wooden floors have acquired a harmonious and aesthetic appearance in every decoration, especially in bathrooms and kitchens, as well as a visual choice that adapts to other living spaces.
You can get a more aesthetic beauty by applying beautiful patterned floor tiles, which creates a parquet look in your home, on the bathroom and kitchen walls. You can achieve the perfect look by applying the pattern that reflects the style that best suits your taste in the decoration of your home or office. You will be totally amazed to see the change and difference in your field. Because your floors will remain parquet and have the look of wood and will not lose the property of ceramic. Warm and natural looking, these gorgeous ceramic designs add a dazzling atmosphere to the décor by creating the feel of parquet flooring.
Ceramic parquet features like wood.
1- These parquet   models are durable and long-lasting with elegant and aesthetic designs that can be comfortably used in all areas of home décor, from bathrooms to kitchens, from terrace floors to balcony floors and even garden floors.
2-   Since it does not have a problem like varnish, it does not scratch like other parquet, does not get old, does not fade, does not fade.
3-   Even if it is unpolished, it has a brighter appearance than other parquet.
4-   Easy to clean and moisture resistant.
5-   With wood-like ceramics, you can provide the warmth of wood and the comfort that comes with ceramics in your home.
6-   It does not give cold air like ceramic. It reflects the warmth of wood from nature with its varied colors and patterns.
7- Thanks to  the ceramic parquet-like models that you will choose   in harmony with the furniture, you will also increase the quality of the decor.
8-   Unlike classic flooring, wood-like tiles consist of long blocks of different sizes.
9-   There are color and pattern options suitable for different decoration styles.
10-   It is very difficult to distinguish wood-like ceramics from real wood when viewed with the naked eye.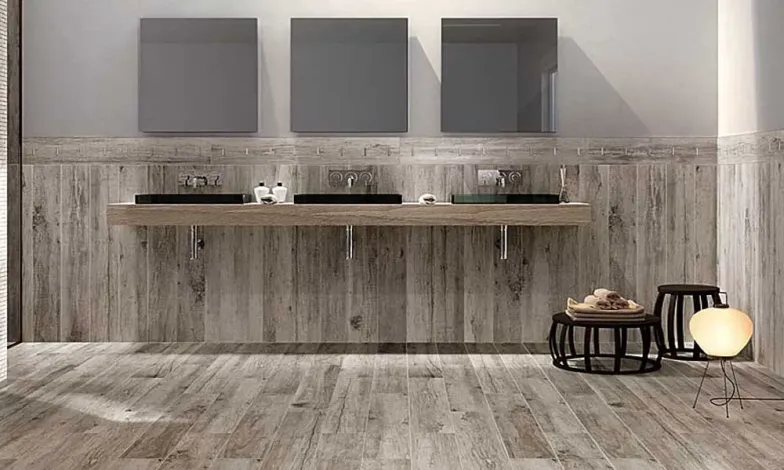 when buying woody-looking parquet;
1-   When deciding on flooring. Attention should be paid to technical factors such as whether it is a wet floor, the floor of the room it belongs to, the material's cleanliness and stain retention, the room's architectural conditions, and its durability and longevity.
2-   When using parquet-like ceramics, it is preferable to choose color options and models that differ according to each room and region.
3-   In the models that you are considering buying, you should choose not only by looking at the display arrangement, but also by considering the furniture, the colors and patterns of the curtains in the area you will apply, as well as the walls.
4-   If you are thinking of classic living room flooring, you must be very meticulous about it.
5-   Choosing a color suitable for the size of the room and the space that you will use is very important for floor decoration.
6-   In terms of space, light colors should be preferred on the floor of narrow spaces.
7-   You should definitely choose the well-established, trusted and leading brands that stand out in this sector.