What will contain the laminate floors we love so much? We have the obvious: its beauty, unique warmth, and endless finishes to choose from. Because it is practical, the extent of its thermal insulation is good. Beautiful, durable wood flooring provides comfort on all levels.
Are you thinking of repair? Flooring is one of the hardest options. If you choose a wooden floor (something that happens in 95% of cases), you will see that the supply in the market is quite large and the information is somewhat confusing.
Laminated, Solid, Multi-Layer, Glued, Flooring, Floating, On Board, Oiled Finish, Polished… Among the different types of cutting and the many ways of laying and finishing, it's not hard to get lost and end up confused.
Today we will try to help you by clarifying these concepts a little. We will tell you what types of materials there are, what are the laying systems for each of them, and what their ends can be.
floor opposite parquet; The eternal dilemma.
You want a wooden floor. You have this clear. Then someone asks you: a platform or a parquet?
Be careful with these concepts. Dividing the world of laminate flooring into two is a simplification that can only lead to confusion.
It is very common to think of flooring as referring to sheets installed with a tongue-and-groove floating system and parquet over natural wood glued to the floor.
In fact, the difference does not lie in the size and arrangement of the pieces. Parquet consists of small pieces, often geometric shapes, and parquet floors consist of larger pieces, generally striped and laid without forming drawings, all in the same direction.
Within it, one and the other can be made with laminated or wooden pieces (solid or multi-layered) and fixed to the ground in various ways (floating, glued, on beams …), although it is true that each material has some more specific fixing system than Other. Parquet, for example, is almost always glued.
Materials, placement systems and finishes.
To clarify the concepts a bit, we will categorize by type of material. In each of them, we will see the advantages, disadvantages and the most popular recruitment systems.
#01
 Wooden floors. Affordable, versatile and easy to install. Yes, don't kid yourself: It's not wood.
Although the appearance is wooden, it is not. It is a multilayer system consisting of several sheets of different materials. The top layer is transparent and wear-resistant, and consists of several layers of pressed melamine. It is finished in a relief that imitates wood so that its texture is practically identical.
Advantages of laminate flooring:
It is cheaper than wood.

If they are well chosen, they resist. The internationally accepted rating for the durability of laminate flooring is the "AC" rating or  the wear

standards

 (corrosion standards). The chips' AC ratings measure wear resistance and originally ranged from AC1 to AC5. Today AC6 is included for intensive commercial use. For residential use, we do not recommend going down the AC3.

It is easy to maintain. It can be rubbed with water repeatedly.

It is warm and pleasant to the touch.

They can be used without problems in bathrooms and kitchens.

You can choose the finishes freely; The effect of wenge will not be more expensive than the effect of oak.
In general, it is widely used in flooring, with a good durability-to-price ratio. In high-quality models, aesthetics are very successful.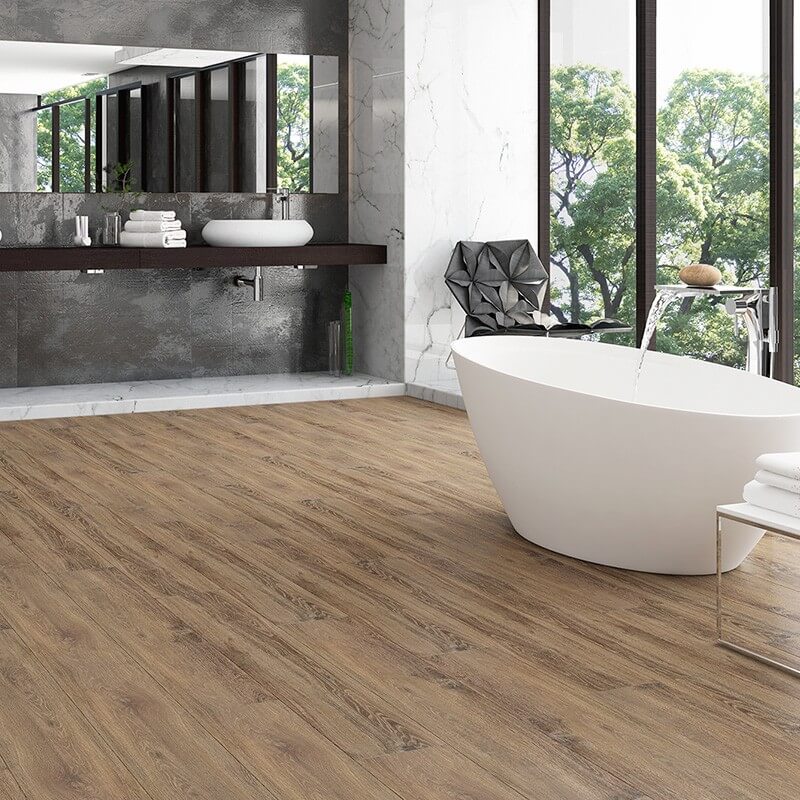 Disadvantages of laminate flooring:
It is not wood.

Forget sanding, buffing, buffing or oiling. Lamination does not support fix. When a part breaks, you must replace it.

The parts that break do so in an obvious way. Cracked wood can be beautiful. Cracked or battered laminate, no.
In general, repairs are not allowed, although the alternatives are relatively simple if we keep some materials from the work.
Recommendations on laminate flooring. (They will depend on the budget you're running but the more you go, the better).
Choose rectangular formats better for individual tables, they are more realistic.

Make sure to choose a model with a texture that truly evokes wood. The cheapest models are smooth and the "wood effect" is not well achieved.

Check how many different parts the manufacturer offers. Keep in mind that the floor is not wood, it is a synthetic piece that imitates it. In these cases, for example, when installing a ceramic floor with a grain, the manufacturer offers a few models of pieces that are repeated. The more variables there are, the easier it is to avoid the mosaic effect and so the pattern does not repeat in the attached tables. Keep in mind that a pattern that is repeated more often makes it more apparent that it is not natural wood.

Keep some materials in case you need to make any repairs.
By choosing the finish and shape well, and betting on the additional quality, a very good and lasting effect can be achieved.
placement systems.
Laminate floors are usually installed as a floating floor due to their speed and ease of use, even over existing floors. The boards have a "click" placement system so you can position the pieces yourself, if you're skilled. The easiest and fastest impossible.
They need well-leveled soil. If you do not have a floor, you will need to apply a leveling putty.
If we place the slats in the same direction as the entrance to the light, we will make the connections less visible.
#02
 Multilayer wood. The resistance and performance of laminate without compromising the beauty of wood.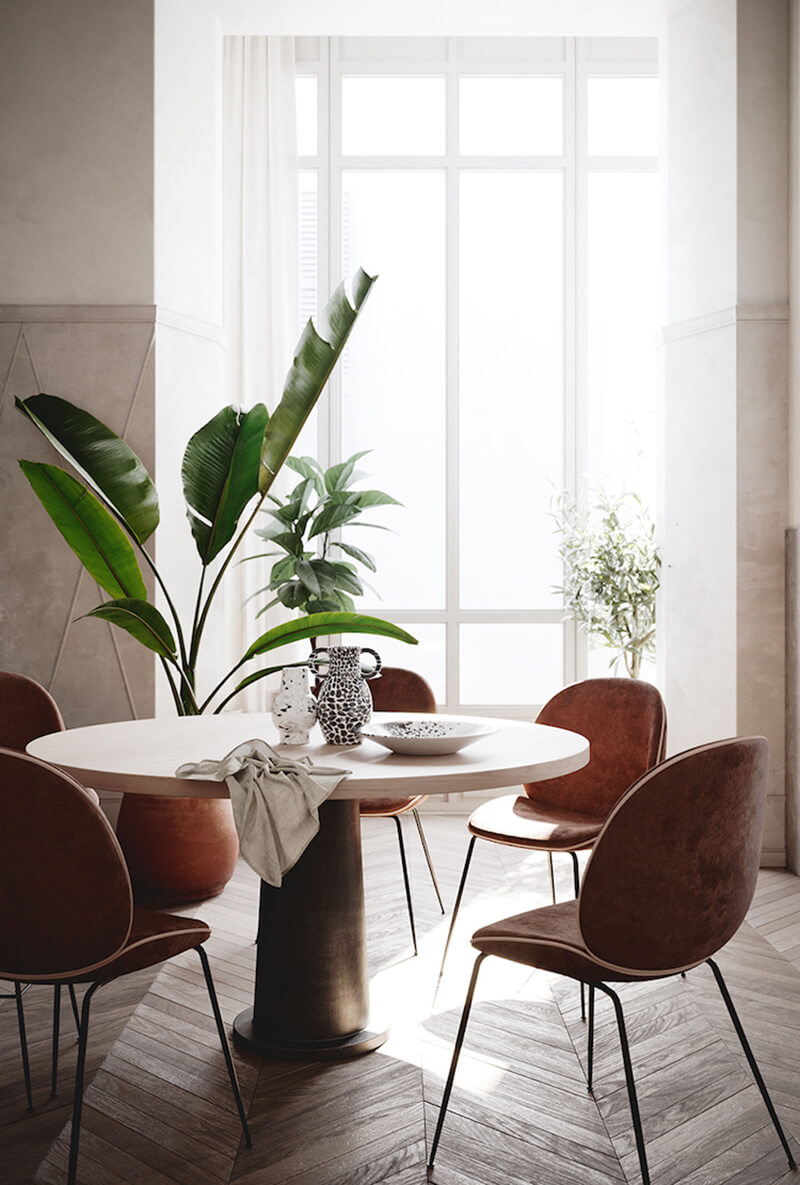 It also consists of several layers, like laminate, although the last is not decorative vinyl or resin, but real wood. This last layer has a variable thickness, depending on the quality of the piece. The price of the land mainly depends on it.
This wood can be pre-treated or treated on site. The first case is the most common today. It has the great advantage that it is applied in an industrial way, it is more resistant and durable. Treatment can be treated with oil or varnish in either case.
The oil saturates the  pores of the wood and protects it from the inside. Being a natural product, it is a sustainable solution and if the wood is damaged it can be easily repaired. Oil-stained floors are relatively easy to maintain without professional help. If I had to put but that would be that dirt and stains could end up getting into the wood. If this happens, you will have to go to a specialist to do a thorough cleaning.
Varnish  with a single layer closes the pores of the wood. Unlike oil, which is absorbed, varnish creates a barrier layer. By choosing a matte varnish, an appearance similar to that of oiled wood is achieved. If they have a scratch, yes, you should contact a specialist.
Lacquered floors are more resistant than oiled floors and require less maintenance. The oil is volatile and wears off over time, so we will need to reapply the oil, especially in the most frequently used areas, which will be the first to notice a lack of protection every 6-12 months. However, this maintenance can be done on your own if you have it on hand in a few hours.
Advantages:
You can enjoy the look of natural wood without investing as much in hardwood flooring.

Each piece is unique. You will not have a mosaic effect.

The invisible layers give it greater stability against stretching compared to solid wood. Its strength is closer to the strength of lamination than solid wood.

Depending on the thickness of the noble wood, they will have one price or another, so there is a wide market with some flexibility to adjust to your budget. The minimum thickness is 2.5 mm, bearing in mind that the higher the thickness the more durable.

Although there are not as many finishes as in laminate flooring, it is common to treat wood and achieve multiple effects. On an oak board, for example, many different effects can be achieved by applying colored varnishes, pickled, bleached, etc.

They require more extensive maintenance: if the finish is oil-coated, you must clean and oil the wood every two years at most. If it is polished, it will last a little longer but as it deteriorates you can sandpaper and apply a fresh coat of varnish. For this reason, the thickness of the last layer of wood is important, so you don't lose it in some sanding.
Multilayer flooring is a good intermediate formula. Its installation in several layers gives it greater stability and a noble finish, an aesthetic similar to that of solid wood.
Recommendations:
If you choose to paint with varnish, choose 

a matte or satin color

 . Do you associate parquet with the mirror effect in the nineties? Forget those plastic-look wood floors. Do you really want to invest in a wood floor that looks industrial? Trust us, choose nature.

Although it can be used in bathrooms and kitchens (Europeans do it without fear) you have to be extra careful with stains and water, and remove them as quickly as possible to avoid further damage.
In general, choose a look that is as natural as possible. Keep it like it's solid wood and you won't have any problems.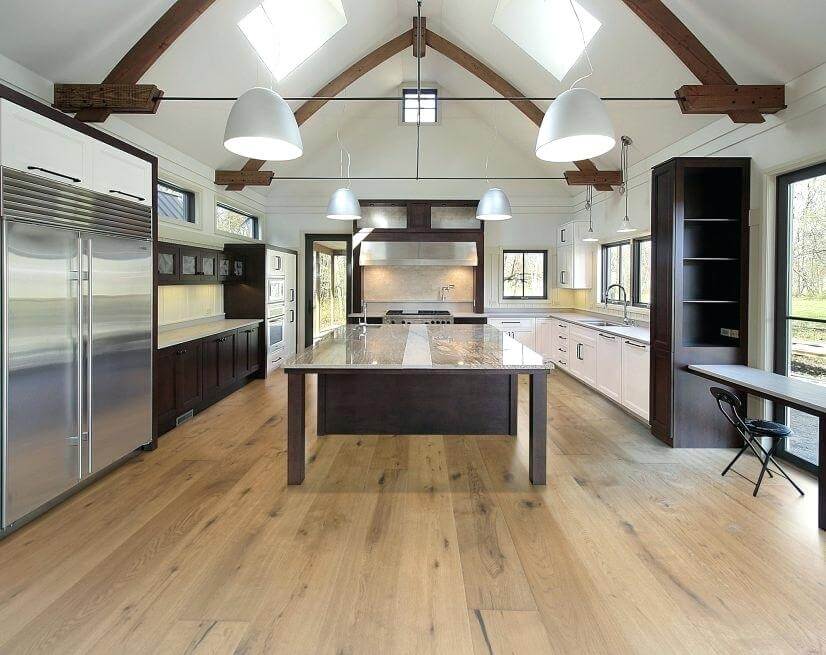 Placement systems:
Today, the multi-layer floor can be installed in several ways: glued to the floor, tongue-and-groove glued and floated with a mortise system.
Floating with tongue and groove or click system.
Currently, most manufacturers use a mounting system called "mortise", in which the tongue and groove panels are placed in a very easy way.
It can be installed on the existing floor as long as it is level. Usually they are laid on a polyethylene foam base with a thickness of 2-3 mm  to isolate moisture and noise and   smooth out small irregularities in the floor. In this system, the floor is not fixed, it is simply supported on the existing floor or level screed.
The big advantage is that the installation is very simple. It has the disadvantage that it can produce a sense of buoyancy if the ground is not completely level.
Floating glued by the board
 .
If the board is not a tongue-and-groove, even if the floor is floating and simply resting on the floor, an adhesive must be placed between the joints to seal it and prevent water from entering.
In this laying system, adhesives are applied to fix the plates to the pre-existing screed or floor. With this, it is possible to generate less noise in the room in which it is installed and a more comfortable footprint. On the contrary, it can generate noise in basements.
It is the least used system today. It consists in fixing the boards on wooden slats, which, in turn, are fixed or glued to the floor. They have the advantage that they insulate the wood well from possible moisture intrusion, by creating a small air chamber. In addition, the plates do not come into contact with the ground, and this gap makes it possible to overcome the unevenness of the floor, pass fixtures or lay thermal and sound insulation.
On the contrary, the tread is noisy and cracks in the joints are common. It is not usually used in renovations because its installation requires the floor to be raised a few centimeters and this is not usually compatible with existing floors in the home. Except in cases where it was originally installed, this system will induce level changes between different floor types. It is also a slower system and requires qualified professionals to install it.
Whatever the case, we always recommend that you orient yourself with the recommendations of the manufacturer or installer.
#03
 Hardwood. Natural, warm and firm.
It is a one-piece plank with every thickness of noble wood. They are floors of exceptional warmth that undoubtedly increase the value of the property. If you decide on a solid wood floor, you are making a long-term investment.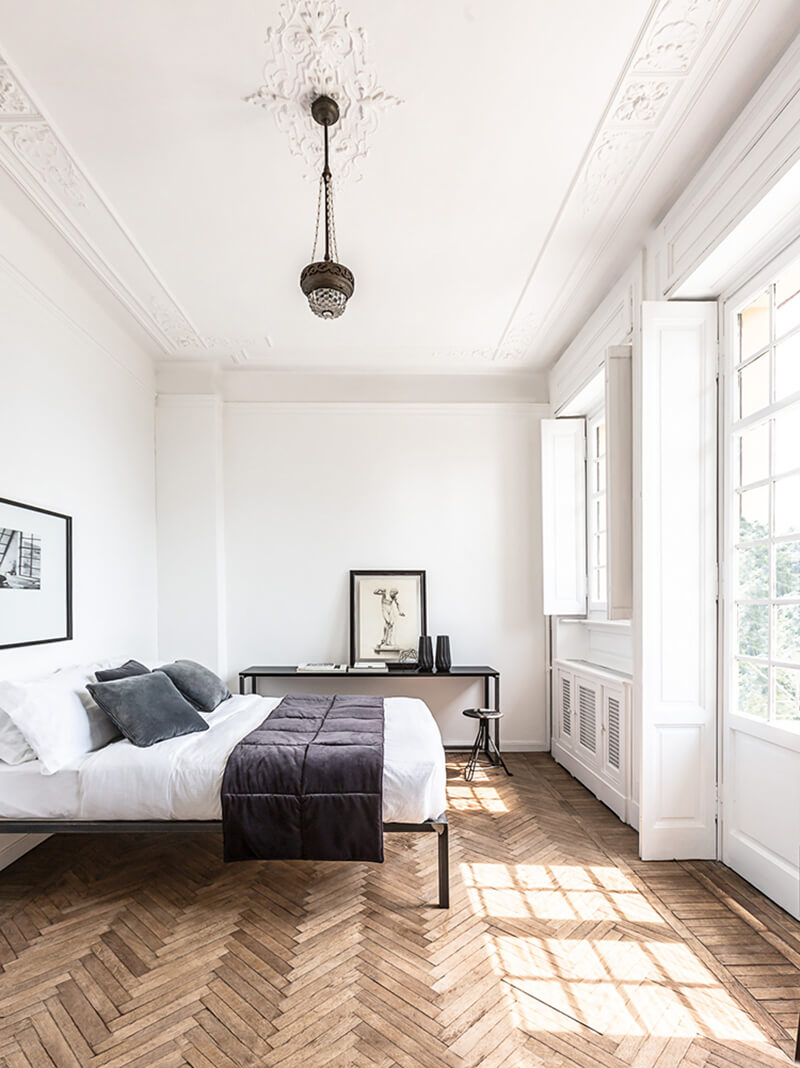 Advantages:
All the beauty of natural wood, with its unique warmth. Solid wood floors can be decorated on their own to become the center of attention.

Thanks to the full thickness of noble wood, they will stand the test of time with repairs needed for cutting, sanding and subsequent varnishing or oiling.

Multiple placement possibilities. Different effects can be achieved depending on the arrangement of the pieces.

The thermal comfort provided by hardwood floors is unique. Combined with underfloor heating, the feeling of luxury it provides in winter is unparalleled.

If you are considering investing in a home with a distinct purpose, hardwood floors increase the value of the property.
cons:
Forget about hardwood floors in bathrooms and kitchens. Moisture and condensation are harmful to wood, and they can swell, damage, and even lift some boards.

It is the most delicate floors in daily cleaning. It is advisable to vacuum them and sometimes clean them with specific wood products using a little water.
Placement systems:
They are the same multi-layered wood.
#04 Nobody convinces you? There are more options. 
Industrial parquet.
It is a type of parquet flooring that came years ago from recycling laminate flooring. Industrial parquet consists of solid wooden slats, which are laid on the edge and connected to each other on their faces, forming the tiles. To fasten the mentioned discs, paper tapes are used temporarily and mainly, which disappear during the stabbing process. Its standard thickness is 20mm, which is a big measure when considering future lunges.
Its position is glued to the base. To do this, different adhesives are used depending on what base you want to glue.
It is a floor with many advantages, durable and resistant.
This wood expands and contracts to a much lesser extent than other types of wood, providing great stability. On the other hand, bamboo flooring is also anti-static and anti-allergic. It is a more environmental and sustainable option than if you choose a natural wood floor.
Vinyl or PVC floors.
They are synthetic floors that are highly wear-resistant and do not suffer from moisture conditions. We include them in this post because they have wood-like finishes. They can be interesting when used in bathrooms and kitchens if you want to achieve the effect of wood, saving more than the disappointment of use.
Of course, they need a perfectly structured surface where they stick completely to the ground below.
Porcelain floors look like wood.
It is a very popular choice in homes with underfloor heating where the goal is to make the most of the high thermal inertia of ceramic materials. There is a great offer on the market and the tissues are very successful. Also the joints. Plaster is barely noticeable. So much so that it is sometimes difficult to distinguish them by touch from, for example, laminate floors.
Prices are similar to those of any ceramic tile and good cuts can be obtained from 15 € / m². However, it is somewhat limited in shape. Porcelain tiles do not allow for long and narrow formats, such as those provided by wood. At most they will come to pieces of 1.20 in length. You can find some of them longer, but their installation is complicated because it is difficult for them not to twist a little, which is very noticeable in the joint and difficult to correct.
If you decide on one, make sure it has a good variety of different pieces, to avoid a mosaic effect. Being small pieces, you'll notice them a lot more than laminate.
Avoid mixing it with wood floors. If you think porcelain flooring is a good solution for your home, have it all installed. Combining laminate floors with other floors that look like this creates an unwanted "Frankenstein" effect.
The big advantage is that they are as good for all terrain as any ceramic tile. You can place it without fear in bathrooms, kitchens and outdoor terraces.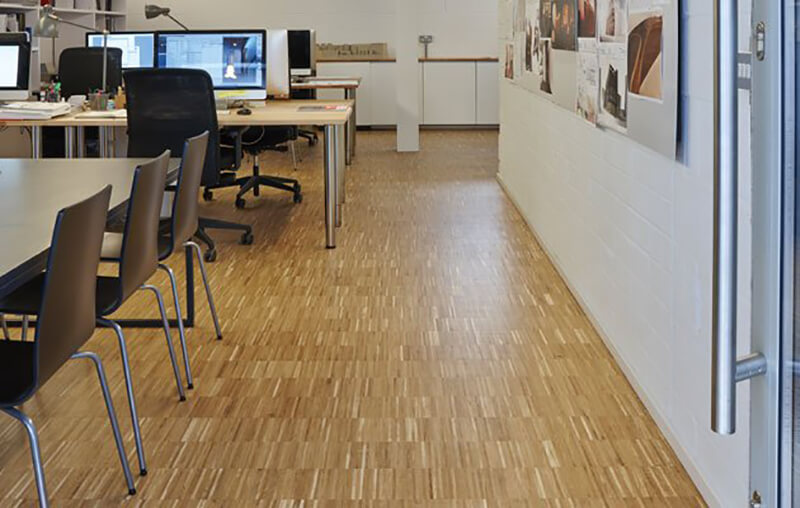 trends in flooring. What do you take?
If through this post you have already become clear about all the market offerings regarding decks, you are surely now wondering what is going on. If you stroll through Pinterest, you may end up in love with a natural wood floor. The geometric parquet trend has been restored, with herringbone, galactic point, or more retro geometric shapes predominating.
Natural materials are transferred not only in the wood itself, but also in its processing. If you can afford it, the ideal option would be to bet on an oiled floor. And when we talk about "saving it" we are not referring to the price that is similar to the price of a painted floor. We talk mostly about uses. In a house with pets, with children, with neglectful users or for families who usually eat in the living room, this is not recommended. If this is your case, don't worry. Matte varnishes give a very similar effect and are more resistant.
There is also a tendency towards lighter, warmer woods, such as oak, without bleaching or darkening treatments. It is also common to bet on wood that has a lot of knots. It is cheaper and its natural effect is much greater.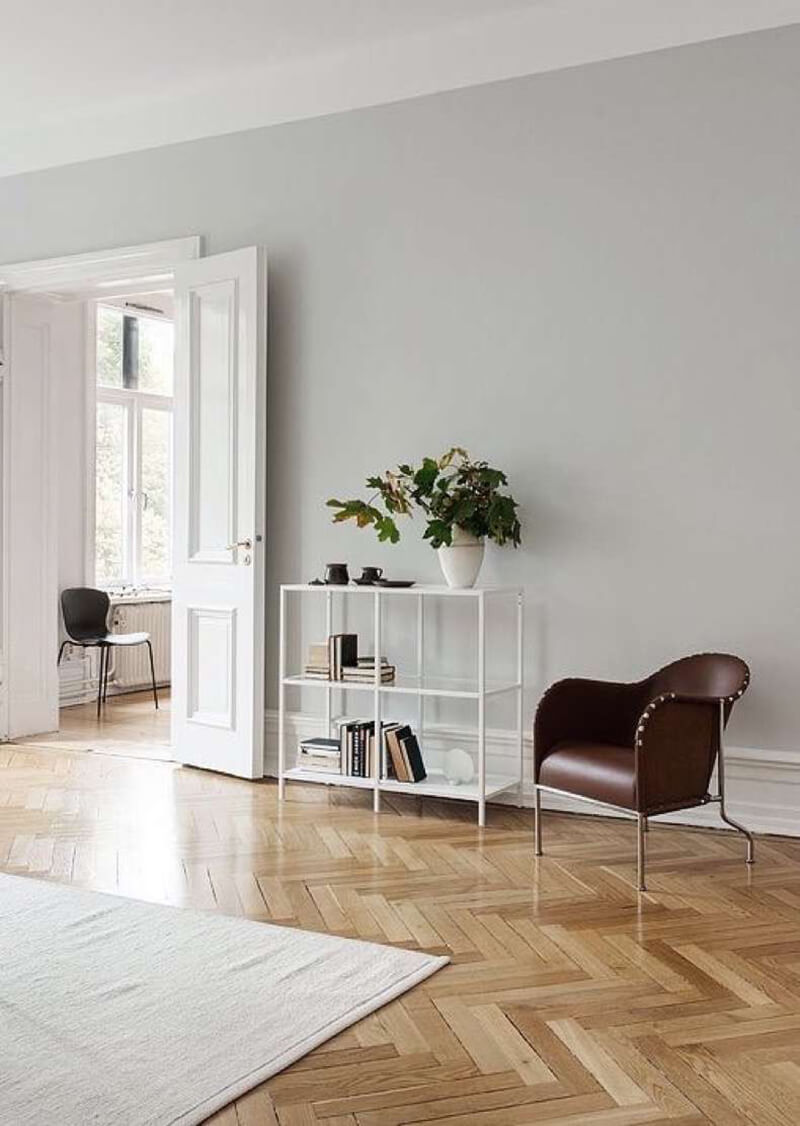 Briefly what is the most recommended laminate flooring in case of renovation?
Apartment for rent with modest budgets and very extensive use  -> polished floors. Choose a good quality that can stand up to the "trot" well. Not less than AC3.
Premium rent apartment  -> high quality multi-layered wood. Choose sinuous geometric parquet that will give you an addition to the trend and exclusivity. If you are rehabilitating an old home and keeping its original elements, hardwood is valuable.
Floor for sale now or in the future  -> multi-layered wood. It will give you a game and will allow you to improve the selling price. It is a plus for the quality and the buyer only needs to sand for a new floor.
Places for commercial use -> laminate or even vinyl  flooring , although it will depend a bit on the aesthetic you seek. If you have a store that sells luxury goods or products that appreciate nature, don't rule out a solid wood floor, even on planks. Keep in mind that the noise you generate in commercial settings is not as annoying as it is at home.