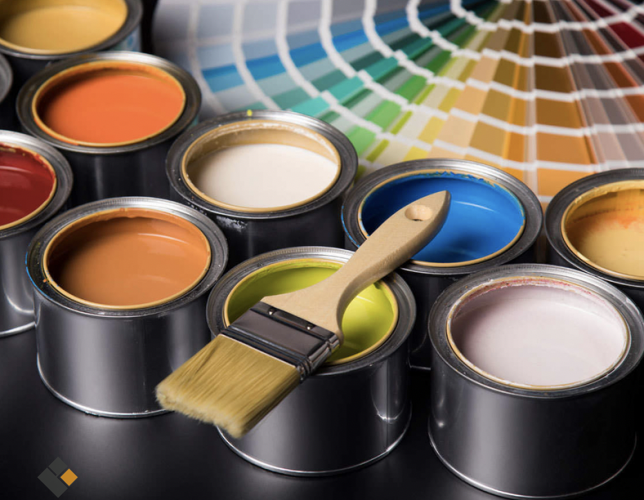 Although the answer to the question of how much paints for my house cost is relative, we will try to help you in our article. For interior paint, an area of ​​80m2 is usually painted with 15L/20kg paint, this may vary depending on the quality of the paint below, how it is absorbed and whether it is old and dirty. 120m2 for de15lt/20kg roof tint is sufficient.
What is plastic coating?
– Painting the plastic interior walls in the painting is the oldest type of paint used and it is matte and the pastel image is not washable. Some companies produce plastic erasable paints, but you should know that the brighter the paint, the more erasable it is. As is known, slippery and glossy surfaces are easier to clean, while plastic paints have a matte and rough surface.
Plastic paints have much better covering properties than silicone paints, they are economical.
– Plastic paints are odorless and dry quickly (secondary coat; can be applied 1-2 hours after applying the first coat. Full drying 24 hours, hard drying 7 days, erasable 1 month), less resistant to moisture, wiping and external factors .
– Plastic paints are absorbent and the consumption can be up to 70% more than silicone paints. This can change the calculations in answering the question of how much paint will cost for a house paint.
What is silicone coating?
– Silicone paint is one of the most widely used types of paints in interior and exterior paints today, although matte and pastel-looking paints are used in this sector, semi-gloss and glossy paints are mostly preferred. Satin is commonly used matte (semi-matte), and those with a brightness close to oil paint are called satin paint.
The most important characteristic of silicone paints is that they are erasable, but not all silicone paints are erasable. The brighter the silicone paints, the more erasable they are. As is known, slippery and glossy surfaces are easier to clean.
– High-quality silicone paints have good covering properties and are economical.
Silicone paints are odorless and dry quickly (secondary coat; can be painted 1-2 hours after the first coat of paint. Full drying 24 hours, hard drying 7 days, erasable drying 1 month), more resistant to moisture, wiping and external factors .
Silicone paints are non-absorbent, and the consumption is low, so they are economical.
What is satin paint?
Satin paint is actually silicone paint, and paints with a brightness close to oil paint are called satin paint. It is water-based, erasable, also called matte silk.
Types of paints
The types of paints in use today can be examined under two main headings, water-based paints and solvent-based paints according to dilution,
Water-based paints: Water-based paints, which are often used when working with paints, have less smell.

Solvent-based paints: Solvent-based paints are paints that smell because they are thinned with thinner.
by brightness:
– Matte paints
– semi-matte paints (matte silk)
– which are divided into three groups are glossy paints.
Types of paints by field of use:
– Interior paints:
– Primers
– Water-based plastic paints – Water
-based silicone paints (surface and satin paints)
– Acrylic
paints – Oil-based (solvent-based) paints
– Miscellaneous
– Exterior paints:
– Primers
– Water
-based paints – Acrylic
paints – Oil based paints (solvent-based)
– Miscellaneous
What are thin watercolor paints?
fluidity (viscosity) of paints; Since it will vary according to packaging, ease of transportation and user preference, it is filled in a liquid that is close to use and diluted with water at the required rate. These paints are odorless and dry quickly (dry within 1-2 hours after application of the second coat, 24 hours until completely dry, 7 days until completely dry, and 1 month wipe to dry), they are less resistant to moisture, wiping and external agents. Today, water-based paints are mostly preferred for interior coatings, except for frequently used places such as heavily soiled residential spaces, factories, and repair shops.
(solvent-based) What is the thinner paint reviewed?
fluidity (viscosity) of paints; Since it will vary according to packaging, ease of transportation and user preference, it is packaged in a liquid that is close to use and thinner with a thinner at the required rate. These paints are fragrant, dry late and are more resistant to moisture, wiping and external factors. It is used in the process of painting interior and exterior surfaces and some wood and metal surfaces in frequently used places such as highly polluted residential areas, factories and repair shops.
What is the first transition and what are the indications for its use?
– Transition primers are divided into two parts. Synthetic and water-based primers are generally used before painting varnished surfaces, before oil painting on metal and wood surfaces, and water-based paint can be applied to them. One of the biggest differences from a water-based primer is that it covers more.
Transition primers can be used before switching from solvent-based to water-based paints, thus ensuring that the water-based paint adheres to the surface. Otherwise, the water-based lace will not adhere to the solvent-based paint, the coverage property will be low, and it will cause peeling, cracking and separation over time.
What does a transition primer do before painting?
– Transition primers can be used to paint dark-colored floors with lighter colors, so that the paint consumption is reduced, and the light color is not affected by the dark or bright color underneath, and a sharper appearance is obtained. Transition primers are a smart solution because they are more economical than paint.
It is useful to use transitional primers before applying silicone satin paints to areas previously painted with plastic paint or absorbent surfactants. Thus, the consumption of our paint will be reduced, and most importantly, the silicone coating will be prevented from peeling off the base layer.
– Transition bushings are also used to smooth out minor ground level differences and rough surface smoothness differences in areas where local repairs are being carried out.
How much is the paint area in the house 130 square meters
With the arrival of the summer months, many of us want to clean and renovate our home or workplace from the tedious chores and dirt of the winter. Or that some of us are planning to move into a new home by the end of winter. We usually make the first definition of a home renovation by painting the places we live in. So, how much paint does a 130 square meter house get? There are two crucial questions that those who want to have their house painted or painted by a professional team feel and are looking for answers to.
What kind of paint should I paint my house with? How many kilograms of paint will my house be painted with? In this article, we have prepared an article for you that will clear all your questions about paint.
In order to purchase the right paint, you must have a list of the parts of your house that will be painted. At the same time, in order to determine how much paint to use, you need to know the area of ​​\u200b\u200bthe voids. Let's start by giving information that will enable you to practically determine the size of the space at a rate close to 100 percent. The process is actually simpler than everyone thinks.
Paint area calculation
The process is actually simpler than everyone thinks. The wall paint area is approximately three times as square as the floor of your home or place. It would be better to explain it with an example. Let's say your room has a floor of 25 square metres, so the panel area is about 75 square metres. Another way is as follows:
The sum of the width of the room, which is the shortest side, and the length of the room, the longest side, multiplied by two, so you can find the perimeter of the room. You can also find the total wall area by multiplying the perimeter of the room by the height of the room, that is, from floor to ceiling. By the way, you do not need to include windows and doors one by one in the process.
By the way, since you will be using a different coating on the ceiling, you will have to calculate it separately. Here's the way to go:
The result of the width, ie the short side of the room, and the length of the room, ie the long side, will give you clearly information on the area of ​​the ceiling to be drawn.
How much is the paint area in the house 130 square meters
How many square meters of paint does he paint?
After calculating your paint area, you can get our paint. We will try to give you clear measurements in this regard. A 2.5 liter wall paint paints a room of 10-15 m² in direct proportion to how clean the wall is and how affected it is by soot and dirt. 7.5 liters of paint can paint 20-30 square meters, 15 liters can paint an area of ​​60-90 square meters. Of course, we give you these rates for two coats of paint.
An average of 20 kilograms of ceiling paint will be enough to paint 100 square meters and a little more. Again, as we said, mold, stains, soot condition, and how long the ceiling has not been painted can change the amount of paint you'll be using by a few kilograms. How much is the paint area in the house 130 square meters
Let's see what kind of paint we should choose. There are two types of paint for wall painting operations. These are water-based and oil-based paints. Each of these paints has its own areas of use, advantages and disadvantages.
watercolor paints
Most wall paints sold today are water-based due to their convenience and ease of use. However, if the wall was previously painted with oil paint, you may have problems applying the water-based paint. In such a case, the surface should be washed as permolite and then completely sanded with medium fine sandpaper. In order for the new type of paint to adhere to the floor easily and to prevent flaking and blistering, it is necessary to keep the wall clean, dry and free of dust.
We can list the advantages of water-based paints as follows: they
dry quickly, mold growth is generally absent, require little pre-treatment, are easily wiped off with water, crack resistant and very flexible.
oil paints
These paints are solvent based paints. It has a bright structure. It has a strong scent and dries slowly. For this reason, proper ventilation must be provided during and after painting. Oil paints are used on almost all surfaces. However, it is rarely used as a wall paint. In general, it is preferable to use in high humidity environments, and the kitchen and bathroom can be painted with these paints.
The advantages of this paint are as follows:
brush strokes automatically fill in the gaps to create a smooth image. Its brilliance gives it charm, it is solid and durable.
Should I be matte or glossy?
There are also some advantages of matte, glossy and satin paints. All items have some functions.
Matte paints:

This type of paint allows you to easily hide defects on the wall. Thanks to its matte properties, it prevents light reflection and makes the wall appear more streamlined and smooth.

Matte Satin Paints:

As it is between matte and semi-matte paints, it provides a satin matte finish. It is very easy to clean. For this reason, it is advantageous to apply it in places where there is heavy and human traffic such as halls and living rooms.

Semi-matt paints:

This type of paint is also called "satin paint" among the people. It is easy to clean; However, it has a higher light reflection rate than other matte paints. It is best applied on surfaces made of satin plaster, without cavities and on transparent surfaces.

Glossy paints: They

have a glossy appearance, thanks to this feature, wall defects will be visible. In general, it would be correct to apply it to areas such as the kitchen, the arch, the door.

Semi-gloss Paints: Semi-gloss

paints, used on panels, moldings and doors. It is also suitable for kitchens, doors, windows, accent walls and bathrooms. It can highlight flaws. So the surface must be clear and smooth.
Things to consider when preparing the painting area
The areas to be painted must be cleaned of oil, dirt and adhesive. Again, surfaces must be dry and free of moisture. In order to ensure that the paint adheres well to the floor, it is necessary that the glossy surfaces be polished and primed. Applications should be in thin layers. If you are changing from a darker color to a lighter one a lot, you should definitely apply a primer to make the new color of your choice look clear and healthy. You should definitely adjust the drying time between coats. Paints should not be used in environments that are too hot, too cold, or too humid. This prevents the coating from sticking to the floor and obtaining the desired result.
Tips for painting your home
The choice of color, in addition to personal taste and agreement with the furniture, must also be made in accordance with the light, whether natural or artificial, in the house. In bright rooms, you can use all kinds of shades and bold and intense colors; While in those rooms with natural light for a few hours a day, it is recommended to choose warm colors (orange, reddish, ocher.) to achieve a more welcoming stay.

White-derived tones allow the room to get a glossy finish.

The LRV (Light Reflective Value) you'll find on the packaging indicates the light the paint reflects. The higher the LRV, the greater the reflexive effect.

We recommend, before the final drawing, to color test the selected paint on a sheet of paper and note how the gradation changes throughout the day depending on the light.

If your room is small

Bet on light colors, especially white and derivatives. This way it will gain light and appear more spacious, but combine it with furniture or wooden elements for comfort and make it more welcoming, avoiding a cold room.
Visual tricks
If you paint the ceilings a lighter tone than the walls, you will achieve the feeling of a higher ceiling.

If you want the ceiling to feel lower, paint it a darker color.

To widen a corridor, paint the side walls in light colors and the front facade darker, which will give the background the feeling of being closer and will save space.

Vertical lines lengthen the wall and horizontal lines extend it.
Disadvantages of camouflage in the wall
If the surface has flaws, you should choose paints with a matte color, because they hide them. However, you should also keep in mind that matte color absorbs more light and tends to darken rooms. In contrast, glossy panels are more eye-catching because they fully reflect the light, yet reveal all the flaws the wall might have.

Finally, you have the option of choosing a satin paint that reflects less light, is more resistant and is washable. For this reason, it is usually applied in high traffic areas such as corridors and rooms.

Create contracts

You don't have to choose one color to paint your rooms. The color combination is successful.
You have several options:
– You can create contrasts by combining a neutral tone (white, beige, gray, black) with a brighter tone. For example, if you have a room that is predominantly white, you can completely renew its aesthetics by painting a wall in a stronger color such as violet, gray, red, etc. This is known as easy chic style: the perfect coordination of neutral and basic environment with contrasting colors and elements.
Paint your walls with complementary or opposite colors. This means that once you've chosen the color you want, choose the second color from the opposite color wheel that we show you below. For example, purple and green; blue and orange; With this tip, you will decorate your room with bright and cheerful colors.
The 60-30-10 rule: If you choose a room with multiple colors, remember that to achieve the best effect, there should always be one color dominant on the walls and the other secondary; Try not to use more than three different colors. We recommend that you follow the 60-30-10 rule, which means that you should use a main color, which is about 60% of the total, another secondary color at 30% and small strokes of the third color, about 10%. For example, you can paint three walls one color, the fourth a different color, and use decorative elements for details.