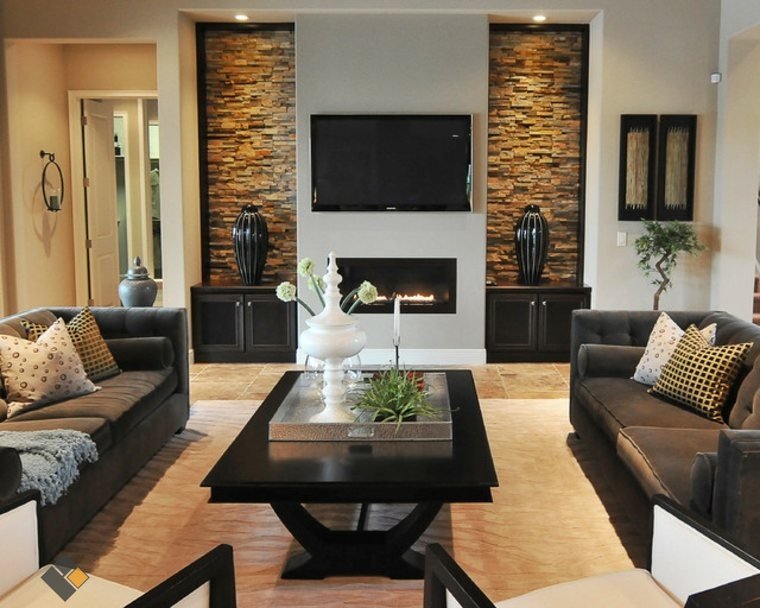 An accent wall is an element that gives your space an eye-catching look: wood adds warmth and comfort, giant wall art is a great idea for a cool effect, and faux stone for a cozy rustic vibe. You can create a faux stone wall at home, and modern materials and methods allow you to create the look of a traditional stone wall with a fraction of the work. Whether it's fake or natural stone, it will add texture to your décor and make it more luxurious, and you can't go wrong with it. Take a look at some of these stone walls for inspiration and ideas for decorating your home.
stone walls
With a very strong and individual character, you can define your apartment by a decorative stone wall . Until recently, stone walls in living rooms were typical, or as an accent around a fireplace. But times and trends are changing. Artificial decorative stones have gained great authority as a material. You can turn almost all ideas and projects into interior design and make it happen.
This material allows you to create an elegant and distinctive style. A sense of luxury, beauty, function and resistance are just some of the characteristics of decorative stones.
It is a durable and environmentally friendly material, externally indistinguishable from real stones. Price, color variety and ease of installation of artificial decorative stones are factors that favor interior decoration. Decorative stones in the kitchen and bathroom are a good application. But especially in the living room they stand out in the foreground.
Decorative stones are used only as an accent
In addition to the traditional painting with stones around the fireplace, you can decorate columns, niches or entire walls. Decorative stones make it possible to easily combine them with other materials: wallpaper, color, metal. You will create a unique interior, if you combine the stone wall with wooden furniture.
The beauty of the stones deserves to be highlighted. You can do this by inserting stones as an accent. Direct or built-in lighting will make the stone wall stronger.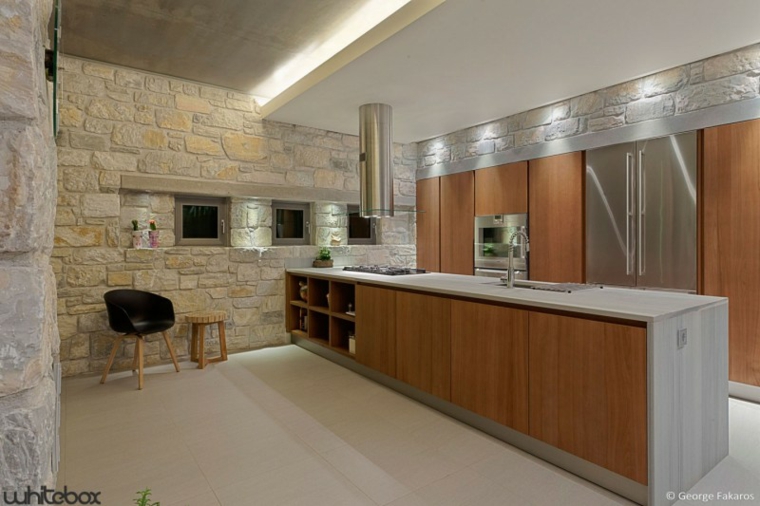 If you still doubt that a stone wall can provide an elegant personality in your living space, keep checking these photos.
Whether it is brick (painted or in a rich terracotta color), rough stone or cobblestone, any interior against this background looks very impressive and elegant. And nowadays, the stone industry in the house prevails not only in the decorative stone walls, but also in the stone floor if the house is made of stone. You can agree that it is a very unusual technique of interior design. All in all, this stone wall is very colorful and memorable.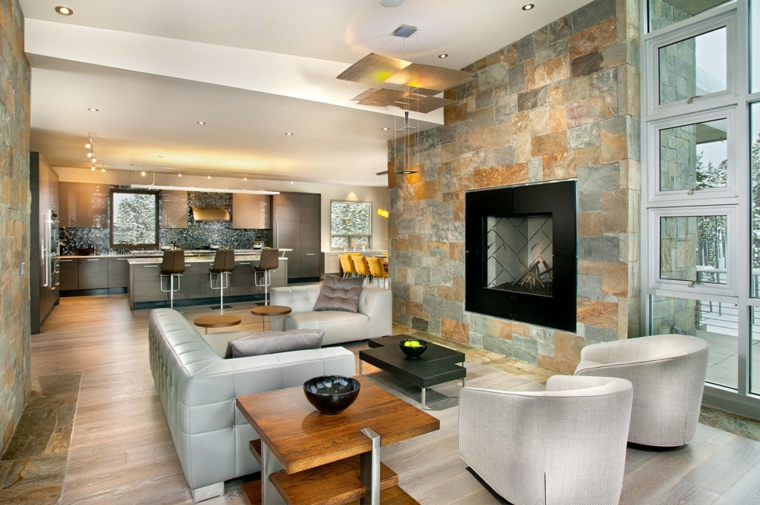 What could be more dramatic in a living room than a stone wall backdrop? It's amazing how something harsh and cold can be translated into a warm and inviting interior feature. Stone is a natural element that has textures and colors to match many design styles. Stone wall is a great choice for adding a strong look to a stylish and modern living room. It's also a perfect match for a rustic gathering space. A stone wall adds movement to a room and is also a great way to hide damaged plaster walls.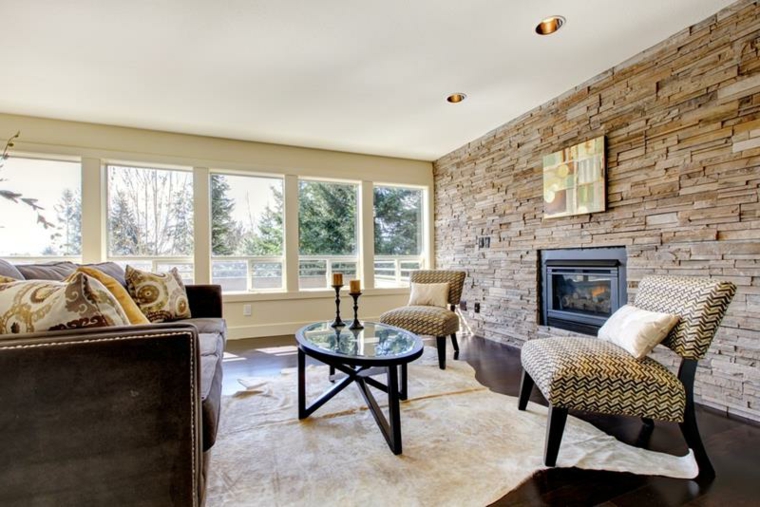 Choose from stacked stones, whole slabs, river rocks, garden stones, ledgestone, or bricks to get the look you want in your living room. Regardless of your choice, architectural stone comes in a variety of organic hues, surfaces, and shades that will work with almost any interior color palette. Or perhaps you have discovered a historic stone wall hidden under a layer of plaster. Exposed stone is a design statement that can stand on its own to create a textured look and feel unlike any other type of interior wall surface.
In case you didn't know, here are some of the benefits of having a ledgestone wall: It gives the space a natural look with many color variations and textures. It is very durable and low maintenance. You can choose from a variety of materials to suit any budget. Stone walls also provide additional insulation.
Here we can see a perfect interior design with stone masonry elements. The look of the living room breathes easily. Antique wooden furniture perfectly complements the interior of this room with elements of stone walls and simple white ceilings. The white color of the walls creates perfect harmony with the tone of the light wooden floor.
The stone wall that runs to the top of the cathedral ceiling is certainly striking. Adding to the drama, white ceilings are trimmed with dark wood beams to create a cohesive feel with a coordinating color story.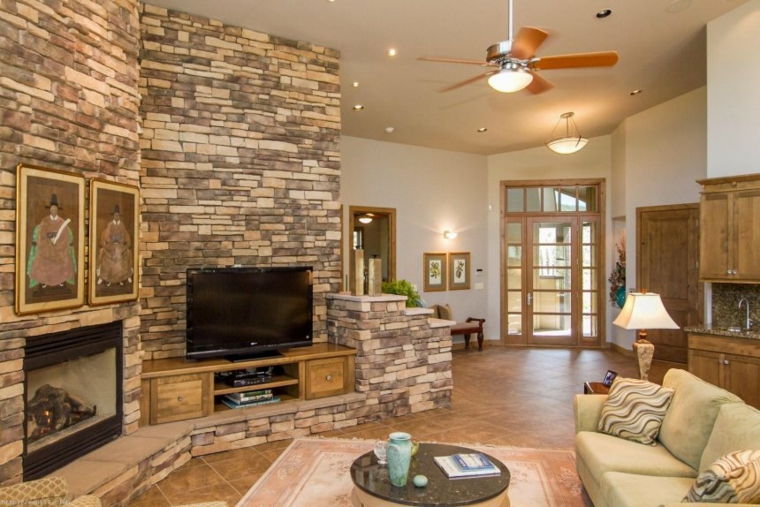 With the advent of ultra-thin stone veneer, there's never been a better time to get the look of real stone in your living room. Covering a wall is a very easy DIY project that's easy on the eyes and pocketbook. Field stone wall installation can take several weekends, but the results are well worth it.
This living room is the perfect blend of traditional and modern. The wall's colors and texture complement the classic furniture pieces and neutral color palette. A combination of soft and hard surfaces gives this room an exciting look and feel.
A bright stone accent wall contrasts with the wood floors in this modern living room. The homeowner chose an oversized rug in a neutral color to set the stage for this stone wall.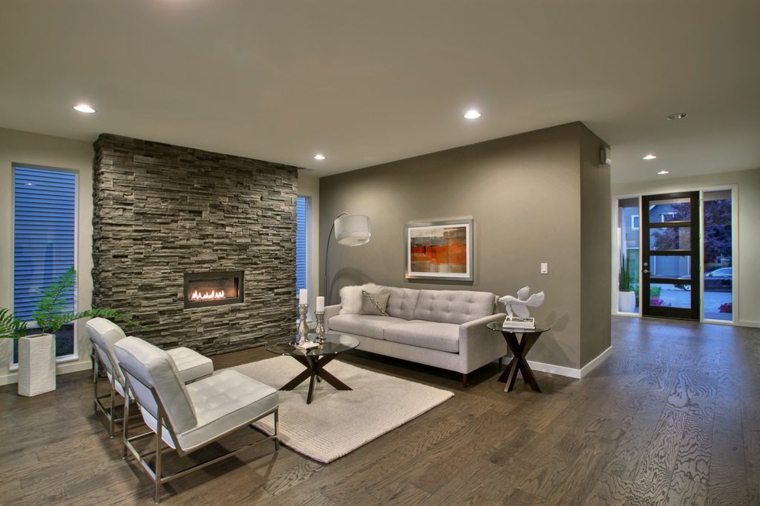 An ideal modern living room would be a cabin without a spectacular solid stone fireplace. It's a great way to bring out the natural color and movement of the quarried stone. This modern stone frame is the focal point of the carefully designed space.
Stone walls are one of the most popular features for bathroom and shower decor. Installing a faux stone or natural stone wall adds luxury and texture, and even the simplest bathroom décor becomes eye-catching.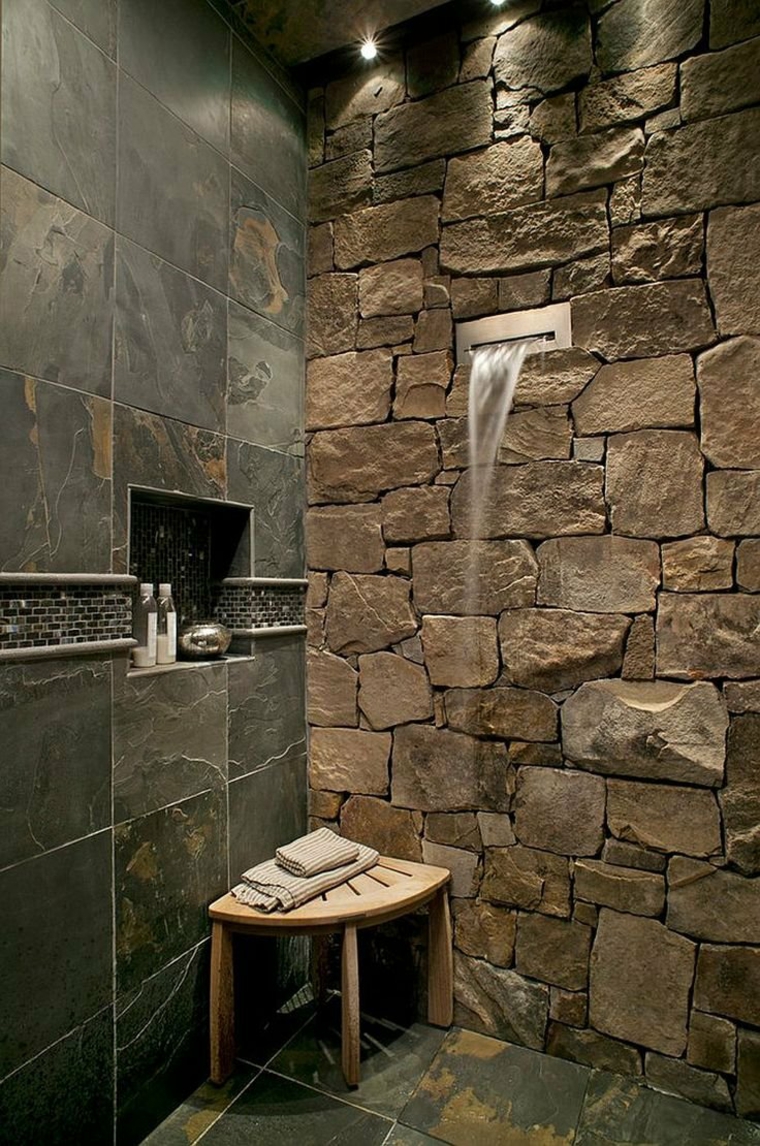 Natural stone and faux stone are both durable and resistant to water and damage, so you can rock the wall behind your bathtub or shower and turn your bathroom space into a spa. There are many textures and shades to choose from, and you can easily find a match for your interior. You can also accentuate the aquarium wall by covering it with stone and highlighting it with lighted mirrors.
The living room wall will suit almost any decor style if you choose the right material. In this space, the uniform look of rock gray looks great in this rustic-style apartment.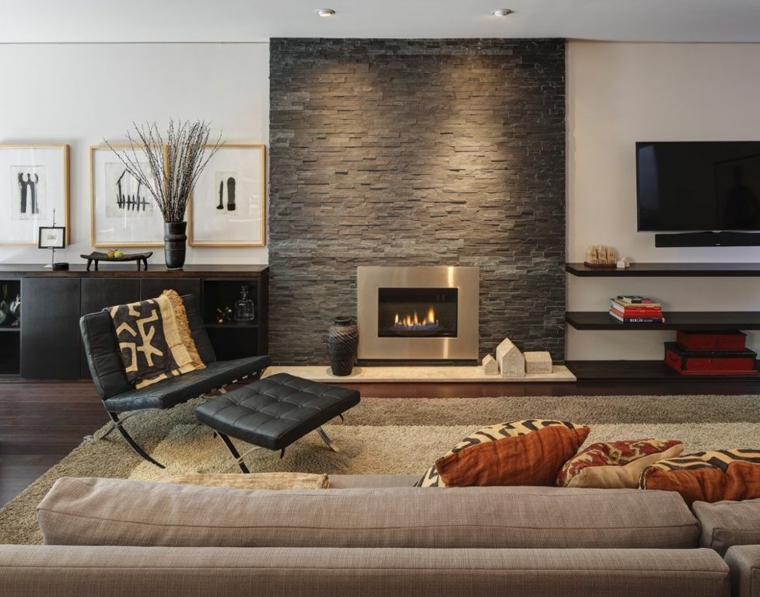 In the living room with a stone wall, it is good to bring in furniture to continue the color palette. Reds, oranges, and browns complement the bricks and make the space feel warm and inviting.
Stone walls are the ideal material choice for a fireplace wall. This stunning stone fireplace extends into the center of the wall. It's a unique design element in this minimalist living room.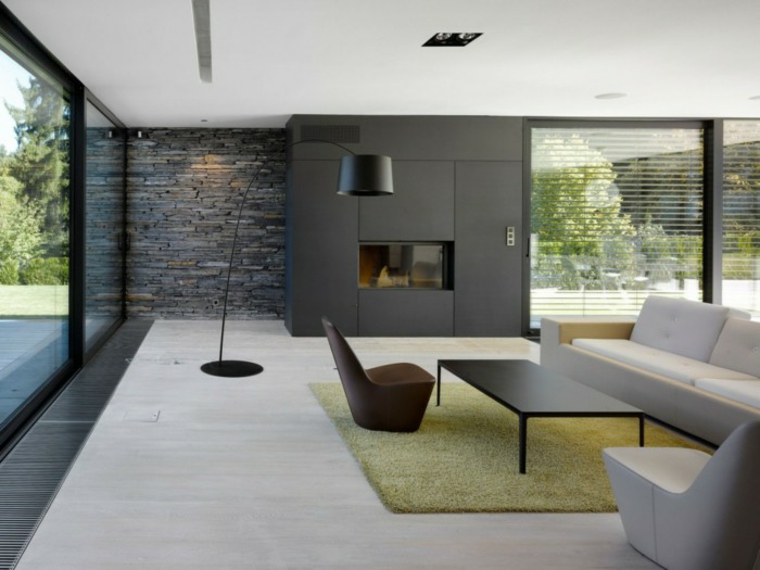 A sturdy stone wall adds plenty of character to any traditional living space. Dark gray slate is the perfect complement to the warm wood floors, rich furnishings, and gilded wall decorations. The look is elegant and very much in keeping with a sprawling rustic property.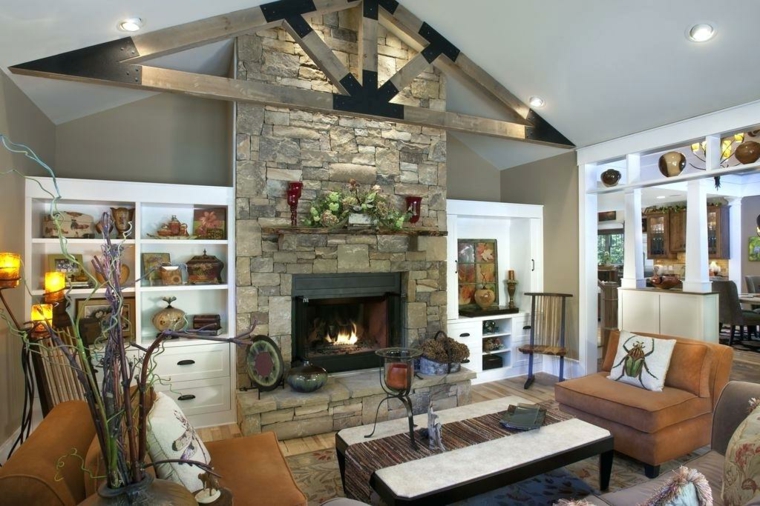 There is no denying that stone fireplaces enhance the look of a living room. If you love the old world character, use it to frame your fireplace wall. The soft texture and variegated shapes of stone are natural when combined with traditional or rustic furniture.
Living in a house with a wall design element covered with river rocks is amazing. Customizing this can coordinate your space. Why faux stone wallpaper? It's not just a hassle-free and cheap option, it's a much safer option. The texture of stone can add a beautiful dimension, but with children around you, the last thing you want is hitting the stone. Create the custom look you love, with all the "behind the scenes" features that make your life easier. The gray and brown color of the faux stone wallpaper makes it easy to decorate and get the perfect look!
Looking to add the custom appeal of a distinctive wall to your home? Faux stone wallpaper adds dynamic style with colors that coordinate with other design elements in your home. The range of style it can complement is wide, as this field stone can accentuate the rustic decor and rustic feel of contemporary fashion. From the Avenues collection, find this and many other wallpaper and mural options to make a bold statement in your home.
wall type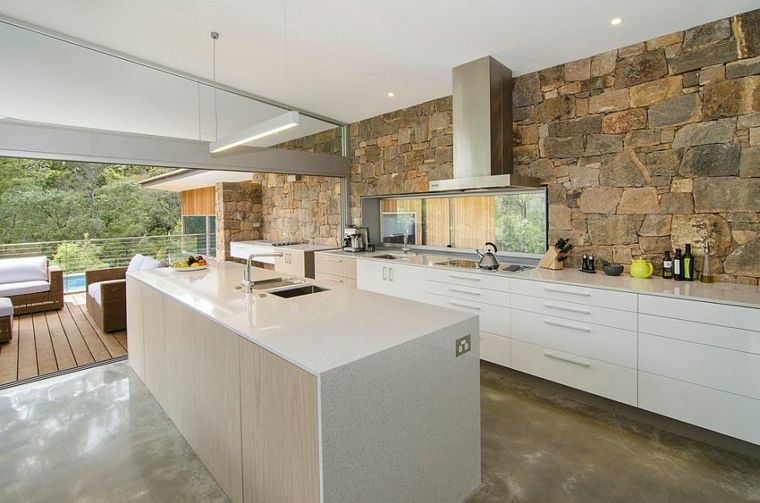 Here is a handy step-by-step guide to help you create a feature wall. Dry stone walls do not need mortar. Mortar walls connect the stones together. A third type of wall is built to look like dry stone but uses mortar where it cannot be seen.
size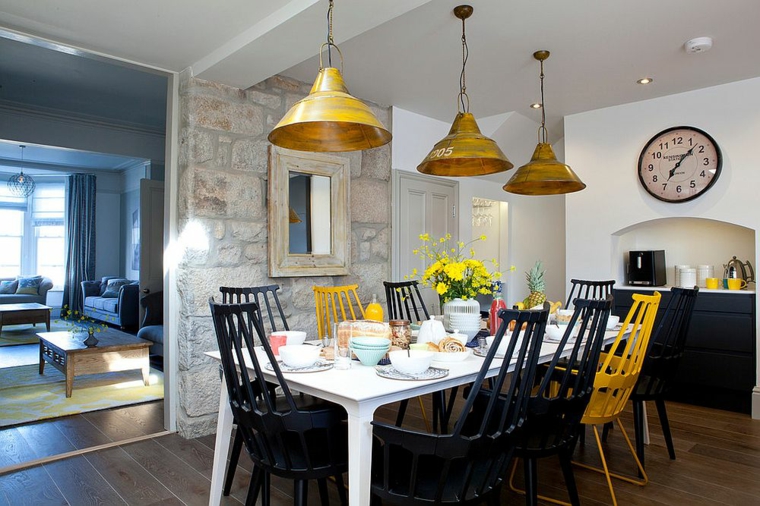 The dimensions of the wall must be calculated so that the wall fits into a space without controlling it. The base of the wall should be wider than the top to give the wall strength and stability.
Materials
Whatever material you choose, try to find a stone of fairly uniform thickness. This will make controlling the level of the wall much easier. It is a good idea to use materials that you can easily move around.
dig your feet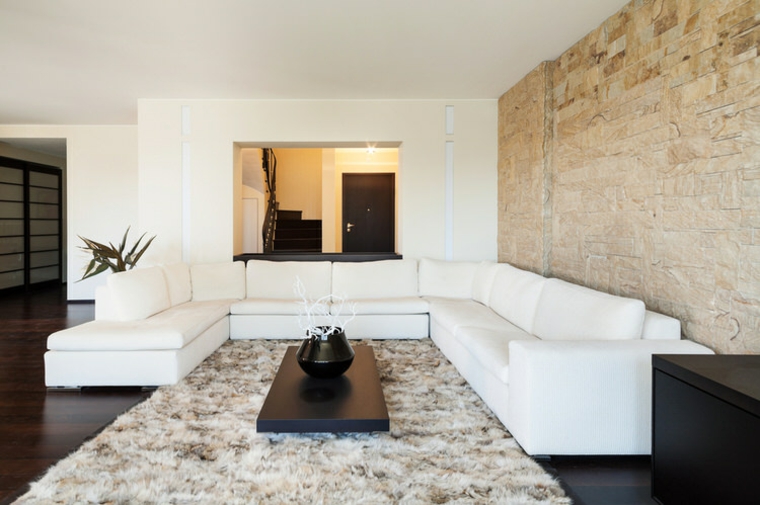 Begin your wall by digging the foundations of the base. The depth of the bolster depends on the height of the wall. Upper walls need deeper foundations. For a wall between 18 and 24 inches high, the feet should be 6 inches deep.
straightening the feet
Use sand or fine gravel to provide a flat foundation surface for the first layer of stones. Use a long, flat piece of wood to make the horizontal base.
cement mortar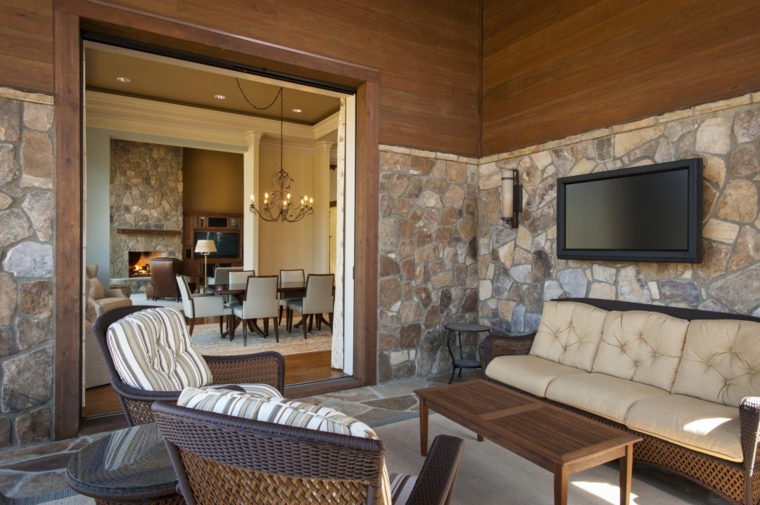 If you are using mortar, mix it to a firm consistency in a wheelbarrow to protect your garden.
guiding line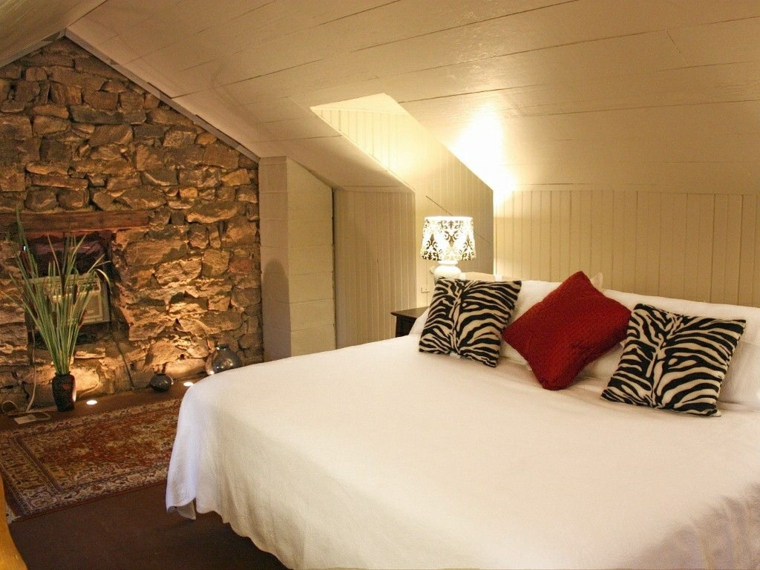 Use 2 iron posts or pickets that are at least 12 inches longer than the height required for the wall. Insert it into the ground at the extreme corners of the face of the wall. Make sure it is in an upright position. Tie a piece of string horizontally between the pegs. The string should be level with the top of the first layer of stones. When each layer is complete, check the level by moving the line to the top of the next layer.
Add the first layer of stones
The first path of the stones will determine the dimensions of the base. Try to use stones of similar thickness. Place a trowel filled with mortar on the surface of the foot and press the first stone into it. Make sure the stone is level. For the wall ends, select as square stones as possible. Using the guide line to ensure straightness, do the same with the other stones until the base is covered.
Each layer should be positioned so that it is slightly narrower than the layer under it. This will lower the wall to the top and add strength. Use rope to keep each layer straight. After the first coat, use enough mortar to create a bond. A stone wall looks much better without the thick streaks of grout. Use smaller stones to keep the line horizontal.
The last layer will be the cap stones. Preferably these be the full width of the wall and a regular shape. They can be like stones on the wall or made of a contrasting material. Stone or marble make excellent stepping stones and provide a nice surface to sit on.
Finish the wall with mortar to arrange the joints in the wall. Once the mortar dries, the wall is secure and will last for many years. If you haven't used mortar, the wall will still be solid, but it may be subject to stone flying due to frost. Check the wall every spring.