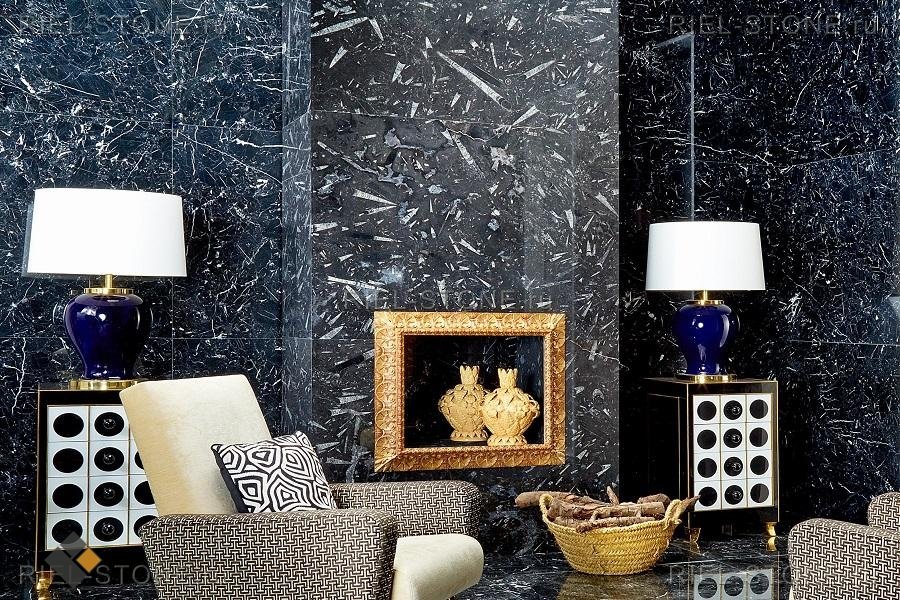 Natural stone types are among the oldest and most popular building and decoration materials. The scope of its use is very wide – from making paving and decorating facades to interior decoration, decorating fireplaces, etc. It has a number of advantages, including reliability, safety, strength and excellent appearance. In addition, the stone is represented by a huge variety of different species and breeds, so everyone will choose for himself exactly what he wants.
Types of natural stone
Depending on the origin, the following types of materials are distinguished:
volcanic rocks. Their list includes basalt, granite, gabbro, labradorite, etc. It has high strength and low wear coefficient, therefore it is often used for paving, paving, paving stones. In addition, it is commonly used for cladding homes and creating landscape compositions.

sedimentary; Natural stone, which is formed as a result of the deposition of both organic and inorganic substances at the bottom of water bodies: sedimentary rocks are dolomite, limestone, gypsum stone, etc. The main feature of these rocks is their porosity, so they are often used in However, it should be noted that heated floors, such as this stone, are polished much worse.

mutant. These materials include marble, slate, gray, etc. This material is mainly used for interior wall cladding, as metamorphic rocks have a relatively low hardness.
When choosing a finishing material, it is necessary to take into account its main characteristics:
density. Natural stone is divided into light and heavy rocks.

porosity. This property affects the thermal conductivity, water absorption and service life of the finished product. The higher the porosity, the lower the volume and strength of the stone, but at the same time, porous types of materials are lightweight and easily processed.

succumb to. Strength depends on the hardness of the metals that make up the material. Natural stones are divided into three groups: strong (granite, gabbro, quartzite), medium strength (travertine, marble, limestone) and low strength (for example, tuff).

Aesthetic properties. In this case, the tastes and preferences of the homeowner play a fundamental role, because each stone is exclusive in its own way, and it can be used to make a variety of interior items: from columns to countertops and window sills.
Natural stone refers to a group of materials extracted from the earth that have been used for thousands of years as a building and decorative material. Natural stone products differ in composition, color and texture even if the stone was extracted from the same quarry. This is one of the main advantages, due to the presence of such exclusivity, the stone offers extraordinary possibilities in interior and exterior designs.
The use of natural stone
In past ages, natural stone was mainly used in construction on a large scale and in public and administrative institutions such as churches, hotels, metro stations and government buildings. However, there has been a trend in recent years towards the use of natural stone in residential decoration for decorative uses. Common uses of natural stone include entryways, bathrooms, fireplaces, floors, walls, countertops, stairs, window sills, and many other surfaces.
Stone is known for its distinctive beauty and the sense of calm and serenity it creates, but there are many practical benefits to using natural stone at home. Natural stone products are more durable than many man-made materials and often last for decades with minimal maintenance. With natural stone, there are no problems with exposure to harmful chemicals in the home, their leakage into the environment during production or disposal. Why invest time and money in a doppelgänger? Natural stone is the real thing, what artificial products imitate.
Types of natural stone
Most often, natural stone refers to granite, marble, limestone, travertine, slate, quartzite, sandstone, shell rock, onyx. These natural stones are chosen as finishing materials because they are among the best, having the highest strength characteristics and rich decorative properties.
Granite's maintenance-free elegance and unmatched durability. Its incredible strength and density make granite an ideal choice for massive masonry applications such as walls, monuments, and buttresses. Although it is the hardest stone, its astonishing variety of mineral-rich colors and natural patterns give it decorative value as well. Granite products are ideal for flooring, countertops, vanity and outdoor decorative applications.
marble
Marble is credited for its timeless style, texture and beautiful natural pattern, as well as for its rich palette of beautiful colours. Available in a variety of veined designs, marble can be carved and used in a variety of ways, making it one of the most versatile of decorative stones. Modern technology is often seen as a symbol of luxury, offering beautiful marble products even for budget-conscious homeowners.
slate
Formed over thousands of years by sedimentation and compaction, shale naturally fractures into beautifully woven layers. Different shades of slate products – brown, yellow, dark gray, pink, lavender, and others – can appear in the same piece of stone. Durable, stain-resistant slate products are often used for flooring, cladding, and landscaping.
Quartzite
Sparkling and sparkling with tiny quartz crystals, it is a shale-like stone with a medium-grained texture and incredible strength. The varied mineral content creates many color variations, from balanced white, gray or beige to more adventurous shades of violet and pink. Quartz is widely used for wall cladding and decorative tiles. The natural, non-slip texture makes it an ideal candidate for indoor and outdoor floors, including high traffic areas.
sandstone
With a uniform texture, an attractive variety of colors and finishes, and weather resistance, it's easy to see why sandstone products have been used for thousands of years for walls, floors, and paving stones. As with other types of rocks, its differences are due to a different mineral composition – there is a sandstone product that will fit into any interior. More about sandstone.
limestone
The calm and soft travertine tones are perfect for a modern, casual and relaxed lifestyle. Available in shades of beige and soft brown, polished or sandblasted, travertine products are ideal for bathrooms, fireplaces, countertops and floors in casual areas with little traffic.
Award-winning limestone for its striped appearance, limestone adds rich, distinctive character to a variety of indoor and outdoor building projects. A stone resembling a tree is often used to give the room a noble antique look from antiquity. Its stunning patterns and veins have been shaped by the hot spring water seeping through the underground limestone. When used in interior works, limestone is often filled with cement, plaster, or resin and sealed to create a smooth, dirt-resistant surface.
shell rock
Sedimentary rocks resembling limestone, on the surface of which many small shells appear. More on Shell Rock.
onyx
A translucent stone with a polished glossy surface, onyx is composed of crystalline silica and is closely related to agate, a semi-precious stone. Onyx is often found in caves, and is formed by the slow flow of cool, sparkling spring water. Onyx is available in pastel colors of yellow, brown, green, orange and white.